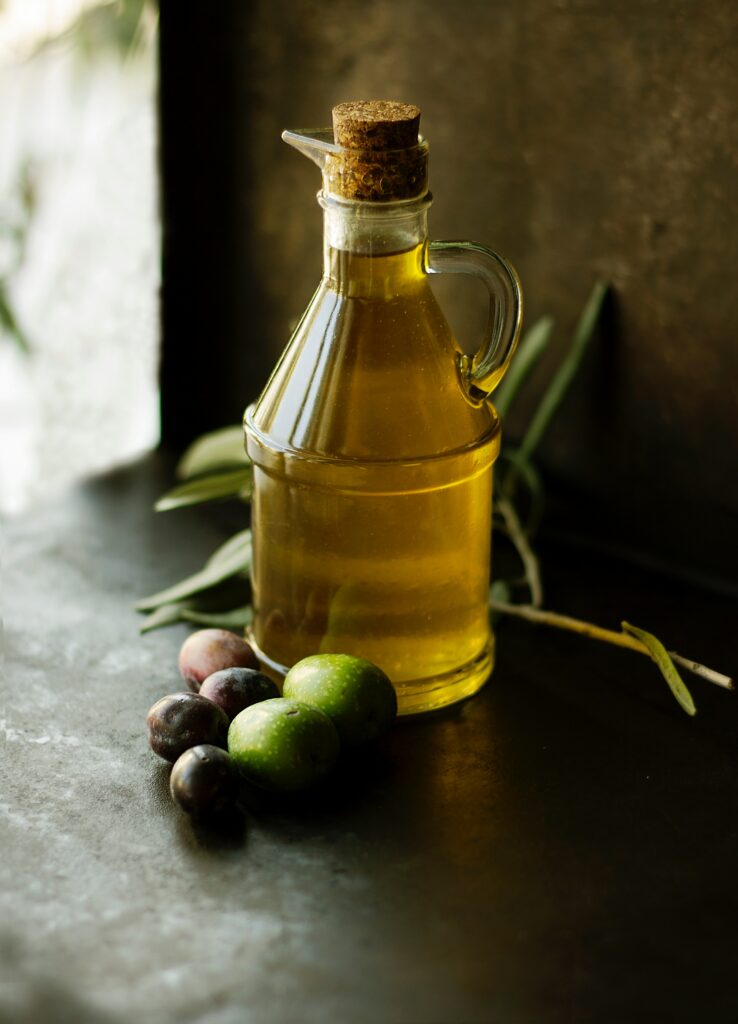 Oil is a moisturizing compound that smooths rough surfaces and has a silky, slippery texture.  It is less dense than water causing it to float on top when mixed with most liquid substances. Olive Oil is a fruity oil derived from the olive fruit and is proven to contain several health and beauty benefits for the human body making it extremely popular in the Mediterranean diet.  When our C.U.P. is Flavored with Olive Oil it is highly visible, it floats to the top, and it swallows smoothly. This additive substance provides a mild fruity flavor which sends the message that your Spiritual Growth residuals are noticeable!  Collect Sticks as your Spiritual strength, Radiant glow, and Smooth path rises you to the top of your domain, leaving your "fleshly self" behind.  The residuals from your Olive Oil Flavored CUP puts your enemies on notice.  In their schemes, they will see and flee from your presence, knowing they are under your feet!  As you walk on smooth terrain, you will never complain.  As you replace uncertainty with Spiritual strength, you will never doubt the Lord's mercy length.  As your inner glow shines bright, you will see every foe exit "in-flight".  Your Spiritual Residuals have taken You to the TOP! Rejoice and Exalt The Lord!
As Saints of the Most High God, when our Spiritual sight enables us to clearly see what God is speaking to us we immediately rise above our adversities and adversarial foes.  The Lord teaches us, we are not ignorant of the devices of Satan (2 Corinthians 2: 11), thus we are consistently overcoming every obstacle in Victory through Jesus Christ. Rejoice, your Olive Oil Flavored CUP is affirming your Spiritual Residuals are paying off, and the Lord has taken you to the TOP!  Your walk, speech, and responses are all grounded in the Holy Spirit of the Lord; enhancing with exhilaration every project, assignment, job, service, task, or role you engage. You are clearly seeing the fulfillment of …and whatsoever he doeth shall prosper (Psalm 1:3) in your life. Rejoice!
In Judges 6:17, Gideon requested a sign from the Lord to see clearly that it was the Lord speaking to him.  The Lord directed Gideon to build an altar unto Him upon the top of a specific rock.  Through Spiritual eyesight, Gideon was taken from being the least of his father's sons to the greatest.  Gideon served the Lord as a judge and prophet, leading Israel in Victory against their oppressors and enemies in the power of the Lord with only 300 men of war. Through Gideon's Spiritual walk with the Lord, the Lord placed every enemy of Israel under the feet of Gideon.  Gideon's walk, speech, and responses were all changed!
Jesus said, For judgment I am come into this world, that they which see not might see; and that they which see might be made blind…(John 9:39).  Spiritual Residuals enable you to see clearly.  Your Olive Oil Flavored CUP sends the message that your new set of eyes are open; see yourself already overcoming every opposition and prepare to proclaim Victory as you receive your Spiritual Residuals in Christ Jesus!  Collect Sticks and leave your "fleshly self" behind!  The Lord has taken you to the TOP! Rejoice!
For I command you today to love the Lord your God, to walk in obedience to him, and to keep his commands, decrees, and laws; then you will live and increase, and the Lord your god will bless you in the land you are entering to possess. [Deuteronomy 30:16]                                                                                                  
FLAVOR C.U.P. Consumed Under Pressure © Lady Angela Carter